Roofing RepairS – LEAKS – SLIPPED TILES
RoofING REPAIRS ARNOLD, NOTTINGHAM
OUR AREAS
53.02305254723216, -1.1128023453738387
NG3 5GR | NG3 5RB | NG3 5RE | NG3 5RF | NG3 5RG | NG3 5RP | NG3 5RS | NG3 5RU | NG3 5RW | NG3 5RX | NG3 5RX | NG3 5TF | NG3 5TG | NG5 | NG5 0SA | NG5 0SB | NG5 0SD | NG5 0SE | NG5 0SF | NG5 0SG | NG5 0SH | NG5 0SJ | NG5 0SL | NG5 0SN | NG5 0SP | NG5 0SQ | NG5 0SR | NG5 0SS | NG5 0ST | NG5 0SU | NG5 0SW | NG5 0SX | NG5 0SY | NG5 0SZ | NG5 0TA | NG5 0TB | NG5 0TD | NG5 0TE | NG5 0TF | NG5 0TG | NG5 0TH | NG5 0ZZ | NG5 4HR | NG5 4HX | NG5 4HZ | NG5 4JA | NG5 4JE | NG5 4NS | NG5 4PR | NG5 4PU | NG5 4PX | NG5 5QT | NG5 5QZ | NG5 5RA | NG5 5RH |NG5 5RJ | NG5 5RN | NG5 5RT | NG5 5SE | NG5 5SG | NG5 5SJ | NG5 6AE | NG5 6FB | NG5 6FD | NG5 6GP | NG5 6GQ | NG5 6GR | NG5 6GS | NG5 6GT |NG5 6GU | NG5 6GW | NG5 6GY | NG5 6GZ | NG5 6HA | NG5 6HB | NG5 6HD | NG5 6HE | NG5 6HP | NG5 6HY | NG5 6JA | NG5 6JB | NG5 6JH | NG5 6JH | NG5 6JN | NG5 6JP | NG5 6JQ | NG5 6JR | NG5 6JZ | NG5 6LA | NG5 6LD | NG5 6LE | NG5 6LF | NG5 6LH | NG5 6LJ | NG5 6LL | NG5 6LN | NG5 6LP | NG5 6LQ | NG5 6LR | NG5 6LS | NG5 6LT | NG5 6LU | NG5 6LW | NG5 6LX | NG5 6LZ | NG5 6NA | NG5 6NB | NG5 6ND | NG5 6NE | NG5 6NF | NG5 6NG | NG5 6NH | NG5 6NJ | NG5 6NL | NG5 6NN | NG5 6NP | NG5 6NQ | NG5 6NR | NG5 6NS | NG5 6NT | NG5 6NU | NG5 6NW | NG5 6NX | NG5 6NY | NG5 6NZ | NG5 6PA | NG5 6PB | NG5 6PD | NG5 6PE | NG5 6PF | NG5 6PG | NG5 6PH | NG5 6PJ | NG5 6PN | NG5 6PP | NG5 6PQ | NG5 6PR | NG5 6PS | NG5 6PT | NG5 6PU | NG5 6PX | NG5 6PY | NG5 6PZ | NG5 6QA | NG5 6QB | NG5 6QD | NG5 6QE | NG5 6Q | NG5 6Q | NG5 6QF | NG5 6QG | NG5 6QH | NG5 6QJ | NG5 6QL | NG5 6QN | NG5 6QP | NG5 6QQ | NG5 6QR | NG5 6QS | NG5 6QT | NG5 6QU | NG5 6QW | NG5 6QX | NG5 6QY | NG5 6QZ | NG5 6RA | NG5 6RB | NG5 6RD | NG5 6RE | NG5 6RF | NG5 6RG | NG5 6RH | NG5 6RJ | NG5 6RL | NG5 6RN | NG5 6RP | NG5 6RQ | NG5 6RR | NG5 6RS | NG5T 6RU | NG5 6RW | NG5 6RX | NG5 6RY | NG5 6RZ | NG5 6SA | NG5 6SB | NG5 6SD | NG5 6SE | NG5 6SF | NG5 6SG | NG5 6SH | NG5 6SJ | NG5 6SP | NG5 6SW | NG5 6SY | NG5 6TA | NG5 6TB | NG5 6TD | NG5 6TE | NG5 6TF | NG5 6TG | NG5 6TH
Out and About in Arnold:
https://www.dayoutwiththekids.co.uk/things-to-do/east-midlands/nottinghamshire/arnold
LOCAL ROOFERS IN ARNOLD, NOTTINGHAM
At Calverton Roofing Repairs, we provide free quotations. Every roof is different, and every repair requires a different solution; therefore, the costs associated vary quite a bit; however, you can rest assured that we provide written quotations outlining the full scope of work and giving you peace of mind that you know exactly what you are paying before any work commences.
We regularly get calls from customers worried that they require a new roof, but in most instances, a leaking or damaged roof is not necessarily as bad as some imagine, and establishing the root cause of the issue ensures we can fix it once and for all. A little detective work can go a long way to resolving even the most tricky roof faults. We always have our customers in mind and will never upsell any repair work.
For a roof to fail entirely and need replacement, its condition usually deteriorates over a long period of time; this is where regular maintenance is essential to increase its longevity and keep your home watertight.
We cover all of Calverton and the surrounding areas of Nottingham. No matter the size of your roofing project, we can help. Please feel free to contact us anytime and schedule your site survey.
Roof Repairs In Arnold, Nottingham
With any property, over time, repairs are inevitable, and while certain things can be delayed, roof repairs should be taken care of as soon as you see a problem. Doing so will prevent the issue from becoming much worse and potentially prevent more permeant damage from occurring. We are always on hand for any requirements that you may have, from a planned repair to an emergency fix. Here is a breakdown of our roofing services:
For all of your roofing needs in Arnold, Nottingham we are here to help. Don't hesitate to contact us any time.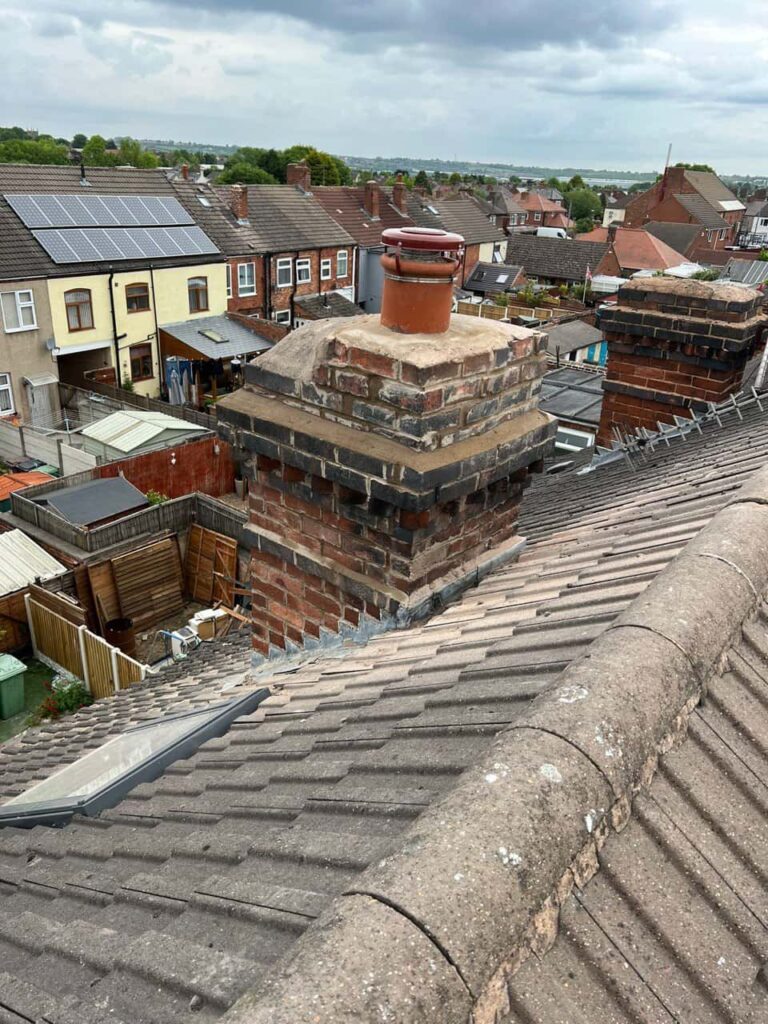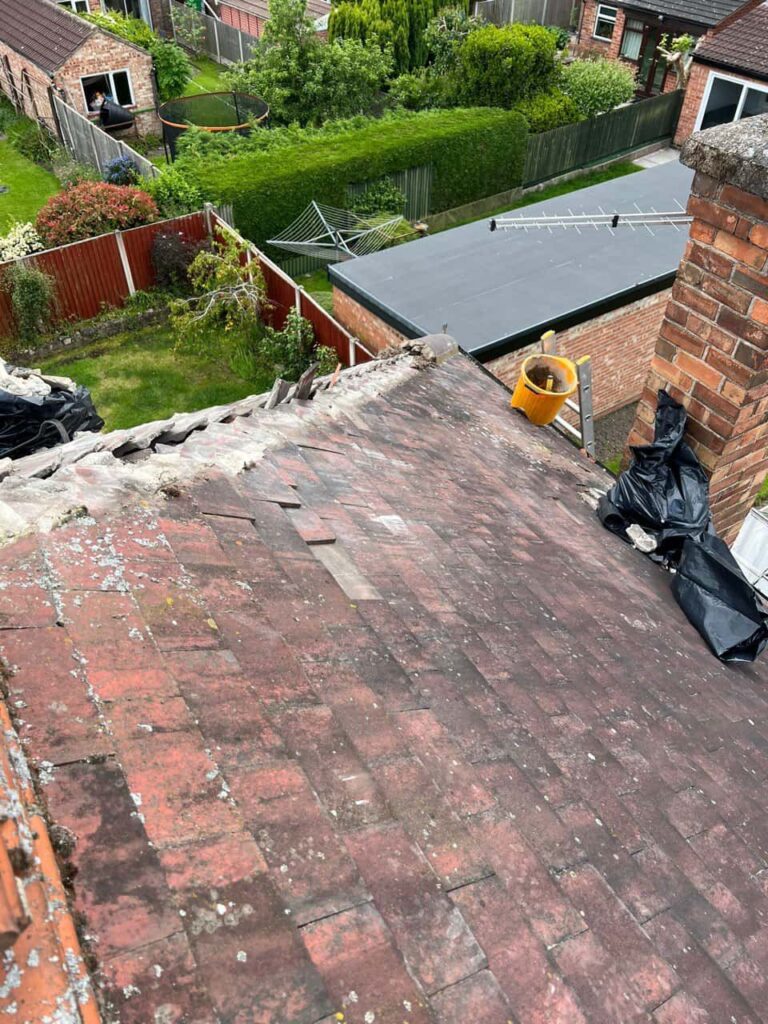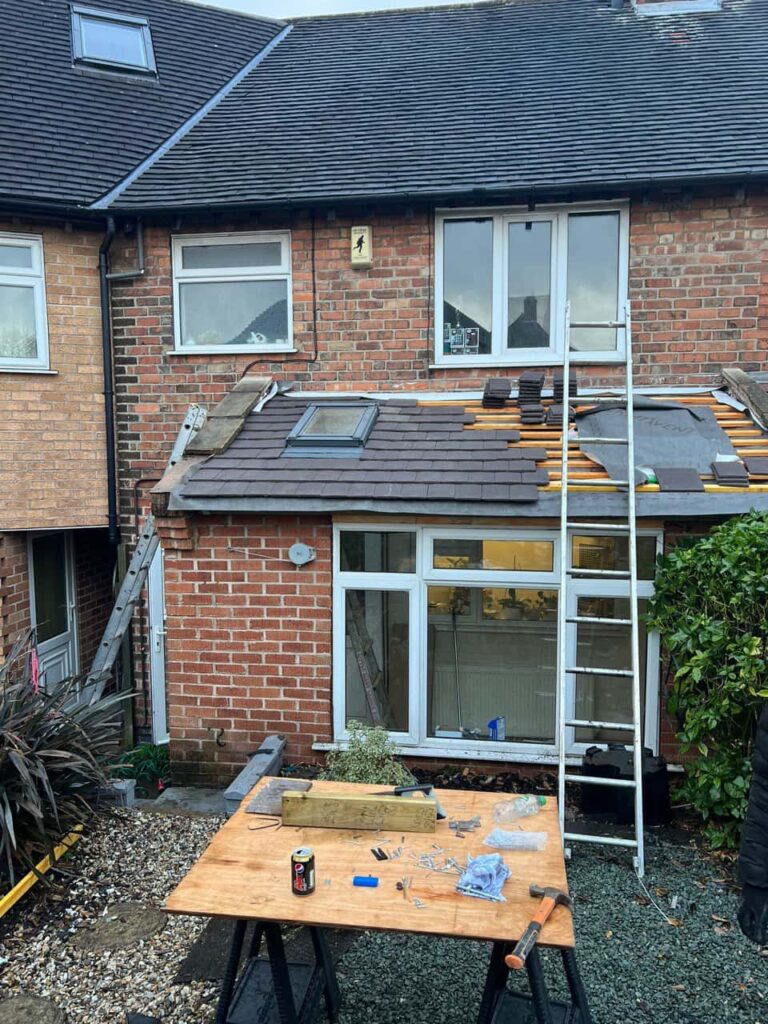 About us and our roofing services
Finding a roofer near me with the skills and expertise necessary to deliver a top-quality roof repair can be tough. However, with our simplistic approach, you can be sure that you are in safe hands with Calverton Roofing Repairs. We will ensure our service exceeds your expectations and that your roofing needs will be handled quickly and efficiently. From initial survey to job completion and beyond, we're always happy to address any queries you may have.
No matter if you have a loose ridge tile, water ingress, or even require a re-roof, we can help. As a family-run business with decades of combined experience and skills, there is no roofing issue that we have not dealt with many times before. You can be confident that you will be left with a leak-free roof once we are finished.
Please get in touch anytime, book a site survey, and see why we are becoming known as the best roofing company in Calverton. We look forward to hearing from you soon!